Witold Wasczykowski, member of the European Parliament and a former Polish foreign minister on the Iran sanctions.
---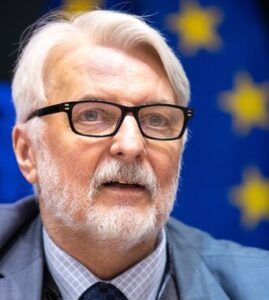 Witold Jan Waszczykowski is a Polish member of the European Parliament and a former Minister of Foreign Affairs of Poland.
He is the chairman of the Delegation to the EU-Ukraine Parliamentary Association Committee and also a vice-chair of the Committee on Foreign Affairs.

Waszczykowski served as Foreign Minister of Poland from 2015 to 2018. Prior to that, from 1999 to 2002, he was Poland's ambassador to Iran.
He was elected to the European Parliament in 2019 as part of the ECR group and is a member of the governing PiS party in Poland.
---
Mr. Waszczykowski, how do you assess the EU's decision to impose sanctions on eleven Iranian officials over the death of Mahsa Amini and the crackdown on protestors?
I commend the sanctions on Iranian officials and entities. Human rights violations are ongoing in Iran. Protests in all large cities in Iran have been initiated by progressive movements inside the country. Women are taking off their hijabs and in some cases even burning them on the streets as a show of defiance against the country's religious dress code.
The hijab is a very delicate and controversial topic in Iran. In the countryside, in traditional families, it is quite popular because it's seen as a kind of instrument that protects women in a 'macho society' from harassment, or worse. Between members of the European Parliament and all over Europe, there is great sympathy and support for the women's movement in Iran, and for gender equality.
Will the sanctions bring results?
They are first and foremost an important political gesture. I think it's worth trying to punish the regime but I am not sure they are very effective since they deliver results only after a year or two. Also, except for the United States, Canada, the United Kingdom and maybe some other Western countries, I don't think that others will join our policy of sanctions. Certainly not countries like China or Pakistan.
Iranian-made drones were used in strikes against civilian infrastructure in Ukraine. Should the EU react to that, and if so, how?
Regarding the delivery of Iranian weapons, drones, and ballistic missiles, the EU is supposed to react, by imposing sanctions. These weapons support the aggressor who violated international law and internationally recognised borders. These weapons kill innocent civilian populations. Iran is a country that claims to be one of the cradles of world civilisation. They claim to be a peaceful country and a target of false accusations of sponsoring terrorism. Well…, by supporting Russian aggression Iran associates itself with the camp of evil, with the axis of evil.
Do you think the protests could lead to changes inside the country and even the downfall of the regime?
Let's not be naïve: They are not protesting because they want to introduce some form of Western democracy. And we had those false expectations in Afghanistan. So, if there is some kind of regime change in Tehran, this regime is not going to be replaced by a democratic system. Probably, some kind of nationalistic, technocratic government could emerge, or a regime supported by the military.
Could this be a revolution?
I'm not sure. A few years ago, there were much bigger riots, with the killing of Neda Agha-Soltan in front of a large crowd. The regime is still quite stable, for a number of reasons: the country is open, whoever is dissatisfied can leave. Unlike during the Soviet period, when countries such as Poland were closed and people could not emigrate. We know that thousands of Iranians are leaving Iran every year. And this also works as a 'security valve' of the regime, it serves to push out of the country those that are most rebellious and prone to demanding more human rights. Don't forget: We have sanctioned Iran for many years before the nuclear agreement JCPOA in 2015, and also afterwards. So far, they have survived. We have now some very tough sanctions imposed on Russia – and what's the result? The war is still going on, and Putin is still in power.
What about the EU-mediated talks to bring back Iran and USA to the JCPOA?
I was never optimistic that Iran would accept it. You have to understand that secretly, Iran wants the nuclear bomb. And they are getting closer and closer to it. Iran has a whole industry that serves that purpose – from digging for uranium to enriching it. All they need is a political decision and they can produce their bomb within months. Maybe they have it already. Aside from the current regime, even the Iranian opposition in exile does not criticize the regime for pursuing a nuclear program.
In other words: the EU's efforts for a return to the JCPOA have failed?
At least I don't see that the conditions are right to bring it to a successful conclusion. Prior to the JCPOA, the so-called European Troika tried to negotiate a deal, that was not effective. The situation changed when the Americans joined the efforts. Without them, it would not be possible. Overall, the Europeans are not very active or eager to press ahead on their own.
The interview was conducted by Michael Thaidigsmann and Nenad Jurdana.