Cristina Vanberghen on how to deal with countries that are not democratic and disregard human rights
The last decade has been marked by the rise of authoritarianism and nationalisms, political interference and corruption, false electoral legitimacy (including external campaigns, disinformation, attack on media freedom, growing wealth disparities), and in general by a polarisation of our societies. It happened here in Europe, but also in the United States. These are serious threats to the values and principles at the heart of the EU.
It is disappointing, indeed tragic, since the EU tries to play a legitimate role-model worldwide. However, these negative developments do not mean that the EU should stop trying to promote its model at an international level. On the contrary, that should motivate it even more to improve our understanding of reforms, the actions to fight corruption and injustice worldwide, to continue mainstreaming the EU values in new and old key policies areas such as digital technologies, climate change, counterterrorism, women's rights, enlargement, and security.
The question of the EU's ability to deal with the fragility of our democracy and the violation of human rights deserves a short and a long answer.
The short answer is first that to deal with these issues, the EU adopted in 2021 an EU Global Human Rights Sanctions Regime, making use of it by imposing sanctions on people and entities from Russia, China, Eritrea, Libya, South Sudan, involved in serious human rights violations.
Secondly, the EU speaks out in the forums. It was also in 2021 that the EU took the lead in the United Nations Human Rights forums on initiatives aimed at addressing human rights violations in Afghanistan, Burundi, Democratic People's Republic of Korea, Ethiopia, Eritrea, Belarus and Myanmar. There are many other areas addressed at international level such as the respect of human rights and democratic standards, which is the management of the refugee crisis; the issue of deforestation, of environmental protection as a human right, and supporting reforms of the legal and judiciary reforms etc.
Thirdly, the EU attempts to learn from mistakes to deal in a credible way by maintaining coherence between the EU's internal and external policies in this area. For this reason, the human rights and democracy support package is conditioned by the implementation of an economic agenda, or by a liberal market economy.
However, sometimes, promoting our social model needs to consider local context and developments. In the context of Arab Spring for example, the European Union was reproached that the model proposed for promoting human rights and democracy caused inequalities and had contrary effects such as the abuse of power by élites or the lack of inclusivity of Arab populations. Thus, the EU cannot legitimately deal in this field just by a short-term approach, i.e. quickly exporting its democratic model.
In the meantime, the dramatic situation in refugee camps, inhuman or degrading treatment of migrants, the infringement of access to healthcare all demonstrate that we need to be serious at home if we want to be credible and influential outside our borders. Migrants must be guaranteed access to essential services, including comprehensive healthcare.
However, the good thing – and this the long answer – is that the EU has been endowed with a strong institutional and operational background to support democracy and human rights at international level – from a long-term perspective. With the Lisbon Treaty, democracy, human rights and the rule of law are at the heart of the EU's foreign policy. It becomes our sober understanding of what it means as a powerful EU foreign policy. This is our DNA. It is our opportunity to convey democracy and human rights as the cornerstones of our peace and security in the world. Setting-up the basis for the respect of human rights and democracy in the Lisbon Treaty by the creation of the European External Action Service (EEAS), which has the role of carrying out a regular assessment and adequate follow-up, and launching strategies and plans allowing the European Union to pragmatically stand up and work jointly with the civil society worldwide, is our institutional way of dealing with the respect of democracy and human rights.
Who says that #EU's foreign policy remains weak because so many divergent interests that get in the way? #Ireland:#Russian ambassador invited to a parliamentary committee hearing next week to discuss tensions on #Ukrainian border & planned naval exercise! https://t.co/I8auwkowQc

— Cristina Vanberghen (@VanberghenEU) January 28, 2022
Secondly, in capacity-building, it is about EU's willingness of translating a pragmatic vision by providing concrete support to civil society worldwide. For example, through thematic programmes, meaning €1.5 billion for the period 2021 to 2027.
It is also important to think about how we can improve our credibility in the future. We need to be realistic. There are still many challenges concerning the capacity of the EU to deal with countries that are not democratic and where human rights are disregarded. An effective policy entails a continuous struggle for rigorous compliance with the Article 21 and 3(5) TEU to protect and promote human rights globally when developing and implementing its foreign policies. We need to continue with our classical tools. That means for example achieve a better protection of human rights by using conditionality incentives such as access to EU funding, or access to the single market.
"With the Lisbon Treaty, democracy, human rights and the rule of law are at the heart of the EU's foreign policy"
A credible foreign policy needs to cover multiple areas such as condemning promptly unjustified investigations and intimidations against journalists, combating human trafficking, upholding the right to asylum, implementing the International Labour Organisation's Convention on Violence and Harassment to ensure that international standards are respected, promoting mandatory environmental diligence standards, or improving EU corporate responsibility to apply the same ethical rules as those existing in the Single Market. These are some of the tools available to the EU to deploy a credible foreign policy.
One disturbing particularity of our globalised world today is the spread and weaponisation of disinformation and propaganda which are dominating social media. For this reason, it is important to urgently create a legal framework for cyber threats and information warfare at international level.
Austria supports a close cooperation between the #EU & #Ukraine. We also discussed the worrying situation on Ukraine's eastern border. I reaffirmed our full support for Ukraine's territorial integrity & sovereignty violations of which will be met by a clear European response.

— Karl Nehammer (@karlnehammer) January 24, 2022
We need to make sure that there is no gap between our political declarations and the impact on the ground, that we have the tools to identify, prevent violations in this difficult pandemic context. It is important to seriously monitor any violation that might occur during the implementation of a EU policy, agreement and project at international level, and set up a basis for the creation of a complaint mechanism allowing individuals or groups to be protected in case of violation. This would add value and burnish our credibility in our international relations and our responsibility to adequately advocate the EU's normative power in international relations.
In the current conflictual crisis, the EU needs to be more assertive and clearly express opposition against Russia's actions against Human Rights and intimidations at our EU borders. A prompt application of the EU human rights sanctions mechanism, similar to the Magnitsky Act is an important element for implementing our EU foreign policy.
We need to be a role-model with respect towards democracy, human rights, and the rule of law for the rest of the world. But clearly, only by respecting the rule of law at home will we be able to have a real impact, developing a positive dynamic of our social and democracy model at international level.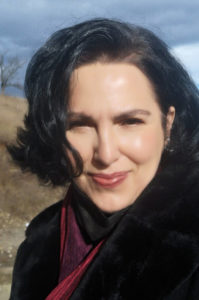 Cristina Vanberghen holds a PhD from Leiden University in the Netherlands. She is a professor for EU Governance and a professor of EU Consumer Protection with the Institute of European Studies at Université libre de Bruxelles (ULB). At ULB, she also teaches a course on the EU institutions and on the Common Foreign and Security Policy.
In addition, Cristina Vanberghen serves as a senior expert to the European Commission. She previously served as advisor to two foreign ministers of Romania, political director and state secretary for European Affairs at the Foreign Ministry of Romania. Vanberghen was a member the negotiation team for the EU accession of Romania. Since June 2021, she is a senior expert for the European Commission for communication on EU policies.
Prior to that, Vanberghen provided independent expert advice on the assessment of legislation in the field of consumer protection and the EU Internal Market.  She helped draft a European Parliament resolution on "Managing Epidemics and Pandemics in the 21st century: A call for a Strategic Autonomy of the European's Health System in the context of Global Governance" as well as a resolution "Towards a Strategic Autonomy in the Telecommunications (Europe 2030)". At the request of Romania's Foreign Ministry, Cristina Vanberghen drafted the Romanian "Position for a EU Strategy for the Carpathian Mountains" in 2018.
In 2004, she drafted the first "Strategy on the Black Sea Regional Cooperation", outlining the increased significance of the energy factor in global and regional politics and the importance of developing a secure, competitive and sustainable energy policy.